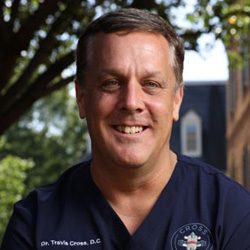 Chiropractor
Travis Cross D.C.
Dr. Travis Cross is a certified Cox Technic practitioner with a decade of experience working with spinal disc related conditions. Dr. Cross has an undergraduate degree in exercise physiology and is board certified in Georgia to practice chiropractic and physiotherapy.
Dr. Cross is also board certified by the National Board of Chiropractic Examiners. With over 20 years experience, Dr. Cross has found a unique balance of chiropractic, specifically Cox Flexion/Distraction, and physiotherapy that is producing very positive results for his patients who typically exhibit the most serious symptoms. Dr. Cross has continued his intense study of spinal disc degenerative conditions and has added the latest Cox 8 table to the clinic in order to provide the best possible Chiropractic adjustment. Dr. Cross also has been working as a hands on workshop instructor teaching other Chiropractors from around the southeast the proper protocols and application of the Cox Flexion/Distraction adjustment.
Dr. Cross is also one of the few Chiropractors in the southeast with the Impulse iQ Certification. The certification process involved extensive postgraduate study as well as written and practical examinations. Impulse iQ by Neuromechanical Innovations is an Adjusting Instrument that is powered by electricity. Impulse IQ has patented autosense technology that senses when mobility is maximized, then ceases the adjustment and provides feedback of the patient's response to the adjustment through audible beeps. When applied to the dysfunctional area (joint or muscle), the instrument thrusts at the ideal frequency to maximize motion, while changing frequencies in real time congruently as motion improves. The Impulse IQ is a more gentle adjusting approach while operating efficiently.
Dr. Cross is a member of the Georgia Chiropractic Association and Graduated from Bowling Green State University in Ohio with a degree in Exercise Physiology. He then attended Life University in Marietta, Georgia and has practiced in the Sandy Springs area since graduation in 1998.
Dr. Cross in an avid cyclist and has been competing in road and mountain biking events for over 20 years.
CCC announces that Dr.Travis Cross is now certified in both the lumbar spine and the cervical spine protocols of the Cox Technic System of Spinal and Pain Management and Relief. This system is evidence based and research documented via federally funded and clinically collected research studies to reduce intradiscal pressures leading to pain relief. Having completed both certification courses, Dr.Cross has demonstrated an exemplary understanding of lumbar and cervical spine pain conditions and application of the Cox Technic protocols for non-surgical pain relief of low back pain, leg pain and arm pain. Dr. Cross provides evidence-based non-surgical solution for spine-related pain relief in the Perimeter area of Atlanta.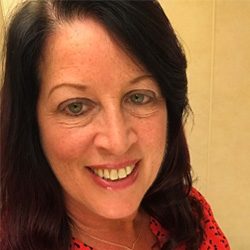 Office Manager
Theresa Lathrop
Theresa is a veteran Army officer who grew up with six siblings on a dairy farm in upstate New York. She joined the military after college to 'see the world' and did get to travel to several States in the US as well as Germany. Theresa went back to college after her son was grown and completed her Bachelor's and Master's degrees in Business Administration, Human Resources.
Her career had her spending over 20 years working various aspects of employee benefits. She has experience in retirement, health and welfare and ancillary benefits as a consultant and on staff with corporate offices. Theresa has worked in analytical roles, call center management, and benefit managerial roles throughout her career.
Theresa came to Cross Spine and Disc initially as a patient and also participates as a client with Dr. Cross's physical training. Theresa's military discipline and years in corporate positions has instilled in her a need for organization and process developments which helps to keep the office functioning smoothly. If there's something to figure out or get to the bottom of, Theresa will work tirelessly to resolve whatever it is. Theresa's passions outside of the office are her two rescue dogs, Tuexedo and Memphis, classic cars and is an avid knitter.
Patient Care Coordinator
Olabisi Thompson
Olabisi is a published children's book author and illustrator from the Bay Area, California. A former patient of Dr. Cross, Olabisi is a firm believer in the Cox Technique! When she is not writing or being a super-mom, Olabisi is hosting local art therapy workshops.
Massage Therapist
Giselle Toran, L.M.T.
Ms. Toran's journey as a massage therapist began in the mid-1980s and has continued full-time ever since. She was licensed in the state of Louisiana before moving to the Atlanta area in 2001 and currently is licensed in Georgia. Throughout her long massage career, she has provided various styles of massage therapy to people of all ages and sizes. Her touch is soothing and intuitively adapts to the subtle changes that occur in the musculature of the client during a session.
Manual Lymph Drainage, Post Operative Lymphatic Drainage, Cupping Therapies, and Relaxing Therapeutic Massage are her specialties. These therapies can help enhance chiropractic care, reduce the discomfort associated with inflammation and swelling caused by injuries and surgical procedures as well as relieve muscle tension and emotional stress associated with a busy or sedentary lifestyle. The aim of Ms. Toran's massage care is for greater relaxation of the body without the experience of pain. Her therapies are gentle and mild to firm in pressure, but never deep.
The ideal massage client for Ms. Toran is someone who is in good health and seeks massage as an adjunct to improve and enhance their quality of life. For example, teenage aspiring athletes experiencing sore muscles or sports-related injuries, the 'weekend warrior' adult needing relief from sudden over-exertion, and the busy parent needing to relax from the ongoing parental responsibilities. One need not be a chiropractic patient to receive her services in the office.
She has helped people recover from hip and knee replacement surgery, and cosmetic surgery procedures such as liposuction, mommy makeovers, and facelifts. She also has helped relieve the pain associated with plantar fasciitis and whiplash injuries.
---
For more information on Ms. Toran's services please visit The Stress Break or call her directly at (678) 485-0302.
First-time clients, referred to her by Dr. Cross, receive 20% off their first appointment.
OFFICE HOURS
---
Monday
7:00am - 6:00pm
---
Tuesday
7:00am - 6:00pm
---
Wednesday
7:00am - 6:00pm
---
Thursday
7:00am - 6:00pm
---
Friday
7:00am - 6:00pm
---
Saturday & Sunday
Closed
7000 Peachtree Dunwoody Rd Building 9 Suite 100
Sandy Springs, GA 30328
(404) 303-0266